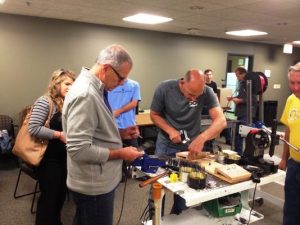 Around 20 Foster Group employees and members of Safe Water International Ministries assembled handheld chlorine producing units Friday in the basement of the company's West Des Moines office, 1001 Grand Ave.
Their efforts will aid doctors, medial workers and patients struggling on the front lines of the Ebola epidemic in countries like Liberia and Sierra Leone.
"With the Ebola outbreak, we've had a real increase for the product," said SWIM board member Terry Butler, who is also director of employee benefits at Vermeer Corp.
People suffering from Ebola experience fever, weakness, muscle pain, headaches and a sore throat. The hemorrhagic fever is a severe, often fatal illness. Chlorine disinfection is important for its ability to kill the virus.
The group has built CPUs to support efforts of the U.S. Centers for Disease Control and Prevention. They also have directed CPUs to aid groups such as Franciscan Works and the Christian Alliance for Missions and Church Planting.
Not surprisingly, employees of the financial planning and asset management firm, try to direct their energy towards projects that are seen as a wise investment of resources and make tangible differences for communities.
"Part of our company is to encourage generosity," said Jerry Foster, chairman of Foster Group. The company also donated $3,000 to the nonprofit, officials said.
Ratcliff explained to employees who participated in the event that the aid group has projects in several countries, including Nicaragua and Haiti. Around 20 of the CPUs built by the Foster Group will head to India. One billion people worldwide lack access to safe water, according to the Safe Water International Ministries website.
As he settled into his workstation for a few hours of work, Foster said he was confident shutting the business down for an afternoon so employees could assist the nonprofit group was a wise investment of time.
"It helps us give back to the world," Foster said.
Courteousy of the Des Moines Register