Making a Difference in India
One of the India SWIM teams organized free health check-ups and safe water distribution at a medical camp in Noida Uttar Pradesh, India.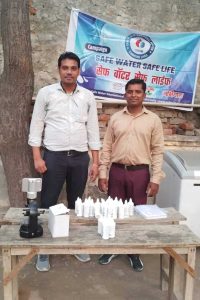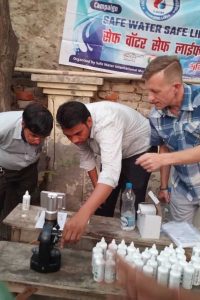 A women's SWIM team completed a safe water training program in Raipur Chhattisgrah in India with Brother Toman.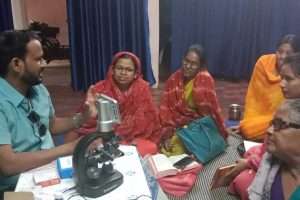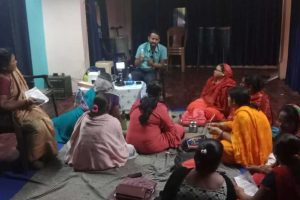 Your support helps these SWIM teams share the Gospel and give safe water training.
---

Look at the Smiles on Their Faces…
The India SWIM team gives safe water training with the distribution of CPUs and discipleship training. Those being affected include new pastors and women empowerment team leaders. Look at the smiles on their faces because they know they are receiving incredible gifts – the Living Water of Jesus and safe water to drink.
With God's help, this is a result of the SWIM teams being there and meeting their needs. With your support, we are making a difference with the people in India!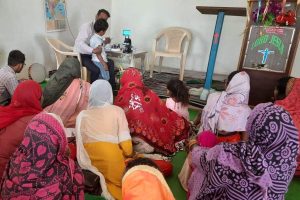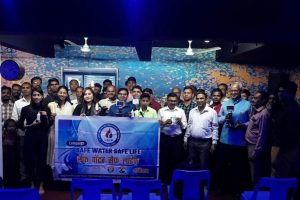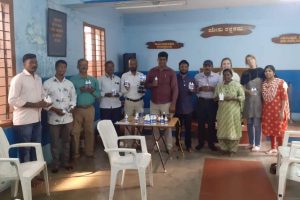 ---
Safe Water and Bible Training for Women in India
Pastor Thapa and his team conducted a women's Bible and safe water training. In the one day meeting, they discussed the subject of how to approach the community amidst persecution with one hand in the Gospel and the hand with safe water.
"Women are so fearless and strong in the faith for sharing the Good News to their communities," shared on team member. "In 2022 we are praying to prepare more women teams for outreach."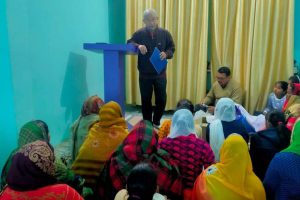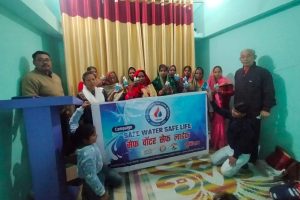 ---
Children and Women Learn about Safe Water Awareness in India
The India SWIM team shares about safe water with children and with women, 98% of whom are illiterate.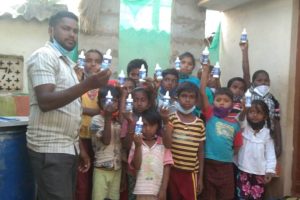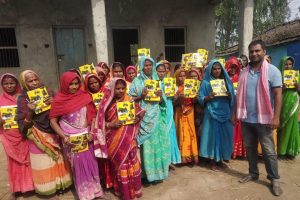 ---
Will You Pray with Us?
The North India SWIM team has organized a safe water campaign program in Mailani. One of the team members requested prayer:
"Please remember in your prayers the five leaders and pastors getting ready to reach out to their community with safe water and Living Water.
This area is so challenging for sharing the Good News as there is so much darkness and anti-Christian elements. Many pastors and churches were persecuted earlier.
SWIM is helping with safe water professional ID cards and sending them into challenging fields."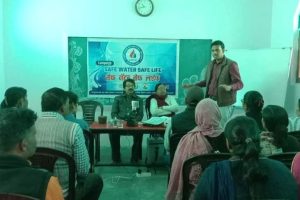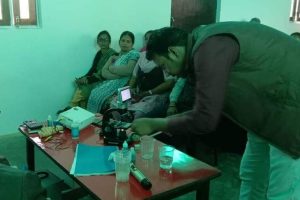 ---

Keep Learning and Sharing – Like Mr. Thapa!
Mr. Thapa may be 70, but he's still learning and still telling others about the love of Jesus! The North India SWIM team shares how grateful they are for him!
"Mr. Thapa is learning all about SWIM and teaching his team to grow the ministry. He is incredible! He is leading young men and women – a good combination of experience and young energy," one SWIM team member said. "We are blessed by him. He is helping to develop new disciples. Hallelujah!"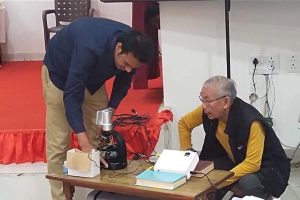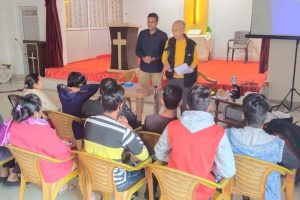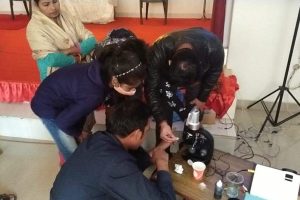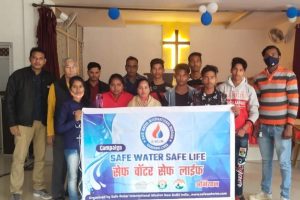 ---

Praising the Lord for the Dedication of the North India SWIM Team!
The North India SWIM team has been sharing safe water and discipleship training in a number of places! Praise the Lord for their faithfulness and dedication!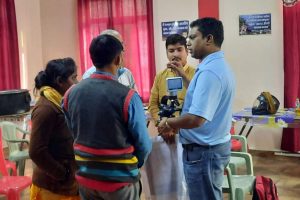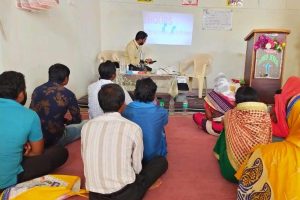 Lucknow                                                        Raipur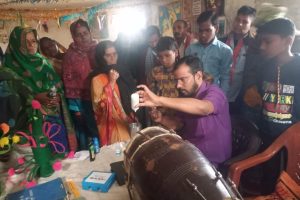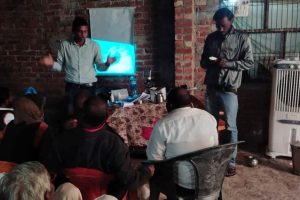 Rajasthan                                                      Unnao Uttar Pradesh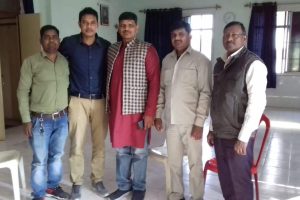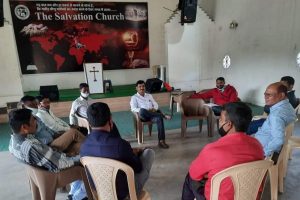 Uttar Pradesh                                               Raipur leaders strategic mission preparation
---

Discipleship Training in North India
Discipleship training and leaders' meetings were a part of the SWIM team's activities in North India.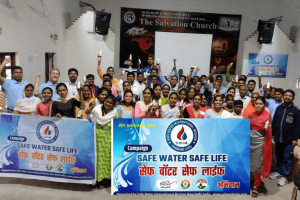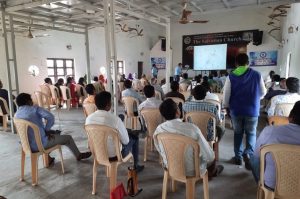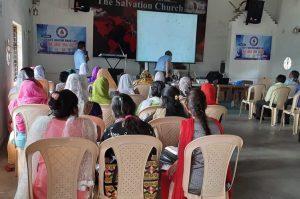 ---

Free Health Check-up Camp in India
The North India SWIM team organized a free health check-up camp with a safe water awareness campaign in the Haryana state in Mewat, India.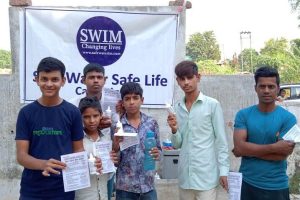 ---
Prayers Needed to Fight Demonic Forces
This request came from the North India SWIM team:

Please keep us in your prayers. In Punjab, we have many upcoming meetings and discipleship training programs scheduled, but we are facing technical issues that we have never experienced before. Sometimes the microscope or the projector doesn't work when we are presenting, but after the meeting everything looks normal. It's like a demonic disturbance. We need more prayers, binding in the Holy Spirit. This is the time in India when there is a lot of idol worship happening.
---
Women Making a Difference with SWIM
The North India women SWIM team is reaching out to bring safe water into the community.
A new women's small group has been formed, plus the women are going door to door sharing safe water!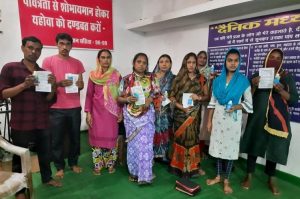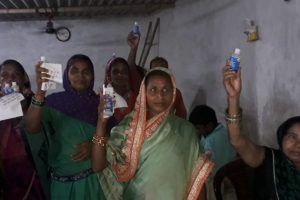 ---
14 New Leaders Preparing for SWIM Ministry!
It is so exciting to share the Good News of Jesus and to share chlorine producing units (CPUs) with people in need – but it takes people who are willing to be trained to share that information. The North India SWIM team has 14 new leaders who preparing for the SWIM ministry! Blessings on all of them!
---
Reaching Door to Door
The North India SWIM team went door to door to share safe water and the Living Word.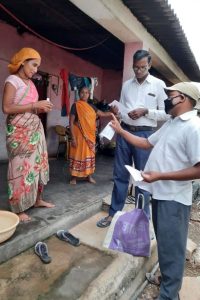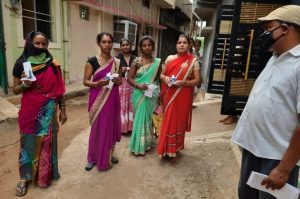 ---
Changing Lives
The SWIM North India team also distributed chlorine in the slum area of Prem Nagar.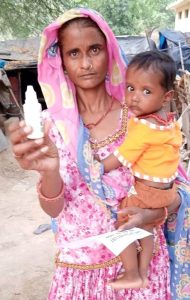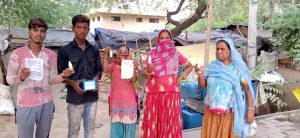 ---
Sharing the Mission of SWIM
The SWIM North India team reached out to people, sharing their mission: safe water and Living Water in Jesus!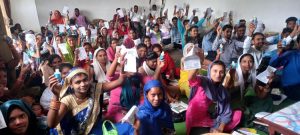 ---
What's Better Than Prayer Fellowship? Including Safe Water Distribution!
The North India SWIM team held a prayer fellowship and safe water distribution in Lucknow Uttar Pradesh State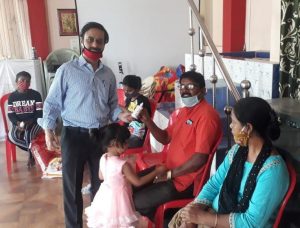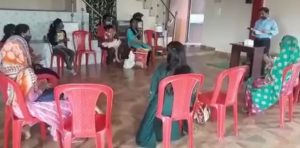 The North India SWIM team also held a prayer fellowship and safe water distribution in Raipur Chhattisgarh State.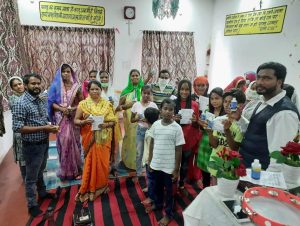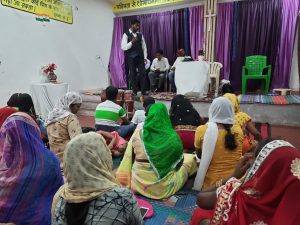 ---
Dealing with Pain and Loss While Sharing the Hope of Jesus
There has been a lot of pain and losses during the second wave of COVID in India. Many families have lost loved ones and some of them are having to recover from difficult health issues. The North India SWIM team is reaching out to families, praying together, and giving them hope in Jesus Christ.
They are also blessing people in the Name of Jesus with the gift of safe water in the Faridabad Haryana State.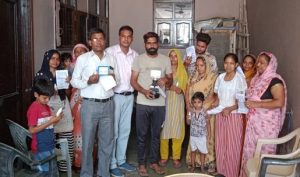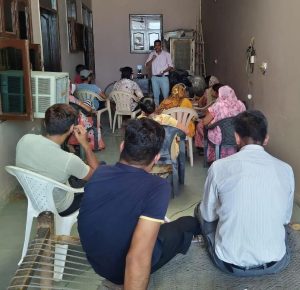 ---
Teaching the Importance of Safe Water
The North India SWIM team taught the importance of safe water practice in daily life and included a free safe water distribution in the Delhi community.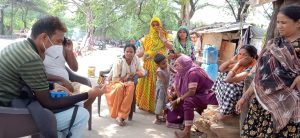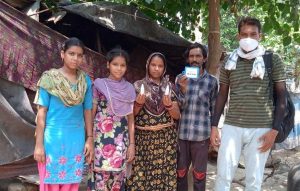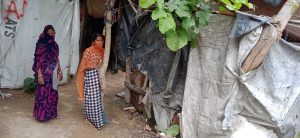 ---
Sharing Living Water While Making Safe Water
All nine North India SWIM coordinators were able to connect together via a Zoom meeting to share testimonies and make future plans.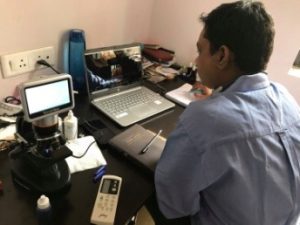 The Northeast India pastors association received SWIM training so they will be able to share with many people in unreached communities.
The SWIM North India team is sharing Living Water as well as safe water for everyone.
---
Sharing SWIM's Mission with Students in India
In India, students were excited to learn more about SWIM's mission of safe, clean water, along with discipleship training. One team member commented how these are future generations learning about Jesus and safe water which they can follow and share with the next generation!
---
Sharing the Good News with Safe Water in India
A SWIM team was able to share the good news with safe water to a new community in India. And another team was able to give a one-day training in Delhi, India.
---
Sharing the Gospel with Salt
In Old Testament times, God used salt to save people. The first miracle the prophet Elisha did involved salt.
According to 2 Kings 2:19-22 (NIV):The people of the city said to Elisha, "Look, our lord, this town is well situated, as you can see, but the water is bad and the land is unproductive."
"Bring me a new bowl," he said, "and put salt in it." So they brought it to him.
Then he went out to the spring and threw the salt into it, saying, "This is what the LORD says: 'I have healed this water. Never again will it cause death or make the land unproductive.'" And the water has remained pure to this day, according to the word Elisha had spoken.
God took care of His people in Old Testament times and He is still taking care of His people today.
Rajasthan, India is a desert-like area. Many people do not drink enough water, due to sickness that comes with the water. These two factors contribute to some people being susceptible to kidney stones.
Consider this man's testimony as to a huge benefit of using safe water. He told about how he suffered with kidney stones and none of the medicines he tried helped him. After using SWIM safe water, his condition was relieved completely! He praised the Lord – and we praise Him too!
A SWIM member in India commented, "This is the second testimony we have received. Another benefit of the SWIM chlorine. It's amazing how people have benefited in ways we don't know."
Isn't it amazing something as simple as salt gives an opportunity to share the love of Jesus? Thank You, Jesus!