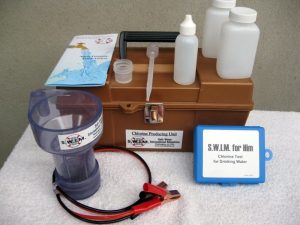 Chlorination of water has been used in the United States for well over 90 years and has proven to be safe, fast and effective as a disinfectant. SWIM uses a simple ready-to-use device that generates chlorine and other oxidants by the electrolysis of common table salt and water. The result is a natural chlorine solution which doesn't affect the odor or taste of the treated water and is much safer than other forms of chlorine.
The Chlorine Producing Unit, or CPU, uses 12 volts of electricity to function, which is common in any part of the world. The 12 volts needed for the process can come from a small battery recharged with a solar panel, or a small transformer, depending on whether electricity is available or not. The devices are portable and compact, yet capable of meeting the needs of an entire village of 1,000 people. If used properly, they will last for many years of service. There are no harmful byproducts and training takes only minutes.
As a ministry, it is SWIM's desire to make the CPUs available to as many people as possible and so our cost of production is basically your price. For just $100, SWIM can manufacture a CPU that will disinfect water for a village! Distribution to locations worldwide entails costs are in addition to manufacture.
We can also send the CPU kit directly to you to be used in conjunction with you or your church's mission trip.
To donate towards a CPU kit, which comes with bottles, chlorine tester and the necessary items to get you started, you may mail a check for $100 to:
S.W.I.M.
P.O. Box 227
New Sharon, IA 50207
or you may use a credit card or PayPal account by simply clicking on the Donate button at the top of the page.
Please be sure to let us know where you would like us to send your CPU. (Price includes shipping)