The Gospel + Chlorine = Lives Being Changed
Lives are being changed in Uganda! Juma reported that he recently had the opportunity to share the Gospel and chlorine with people in Buwagama.
He wrote in an email: "I introduced them to what the Bible teaches about loving one another."
He added, "It was a great refresher for the souls of people who for a long time have been spending on the treatment of typhoid. Everyone was surprised how the church can serve clinically to save people's lives."
The local authorities also gave their appreciation of SWIM's ministry.
---

Sharing the Gospel in "Unreachable Areas" with CPUs
Below is part of an email from Juma, who is a SWIM team member in Uganda.
I have been able to reach out to people in communities with the Gospel and chlorine. By the grace of the Lord, I have reached five communities and given them CPUs.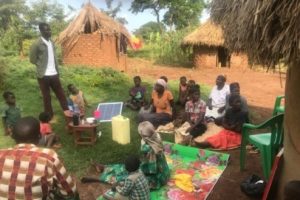 The communities I have reached are in the most unreachable areas. They are located far from the hospitals, have poor transportation, and big problems with water. They use community wells that are unprotected and contaminated.
The greatest opportunity I have through SWIM is that I can reach communities in my country with the Gospel, in accordance with the Great Commission. We have the greatest blessing to reach out to souls.
Because we are encouraging people to use treated water with chlorine that is freely available in these communities, this has increased the population in churches that have CPUs. They use CPUs to evangelize the communities.
Our women's program is doing well. They share chlorine whenever they meet and they invite friends to meet for Bible study. We teach them to encourage one another in any hardship and to work together.
---
Give a Gift with Impact and Eternal Significance!
Give a gift with purpose – one with eternal significance! Fund an on-site chlorine producing unit (CPU) for those around the world suffering from unsafe water and share the gift of Jesus.
See for yourself the powerful impact people have experienced by receiving a CPU! Watch these short examples of actual people who have been helped by the CPUs and as a result have been told about Jesus. 
SWIM video: https://youtu.be/vldqNsyjxG0

In the video, Juma, one of the SWIM team members, said, "Our work is to coordinate with people in the communities by giving them CPUs which are used for making chlorine. It is that which they use to go to people's homes and teach them how to use the chlorine to treat their water and we also share with them Christ. So the main point as to why we do everything is to share with them the love of Jesus Christ."
---
Praise the Lord for a New Church in Uganda
A new church is beginning in Uganda! Bricks are being made for the church building. Praise the Lord for this progress! One team member explained that this new church is the "result of SWIM's distribution of chlorine in the community."
---

Reaching an Isolated Community
A CPU was given to the community of Nabinyu, which is located in a very rural area in Uganda. "We praise the Lord for the opportunity to reach this isolated community," said a SWIM team member.
---

"I Praise the Lord I Have Not Been Arrested!"
A SWIM team member from Uganda sent a message about how they are doing during lockdown. Your support of SWIM has allowed them to be able to distribute four chlorine producing units (CPUs) in different communities.
He wrote: "Under lockdown we have had theopportunity to share chlorine and give out a total of four CPUs in different communities. One of which is a potential for a church plant. Thank you so much for your support. Our country is still in lockdown, so by having gatherings we break the COVID-19 government policies. Our communities are most affected by the effects of policies put in place because of the virus.
The Lord has given me the opportunity to reach several communities and share with them chlorine. I praise the Lord I have not been arrested! Right now, my team and I are ready to reach more communities and teach them about chlorine. If we are blessed with more batteries and solar panels, we shall be able to reach more with the gospel."