Washington, Iowa, United States of America – April 29, 2015 – (SWIM  – Safe Water International Ministries).  The SWIM hand-held Chlorine Producing Unit (CPU) has joined in the now-urgent fight to provide safe water to the earthquake stricken people of Nepal and northern India.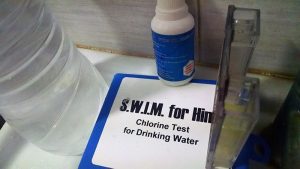 Speaking with established contacts on the ground in Delhi it is clear the situation is becoming dire.  According to SWIM sources in India, people are in panic in Delhi, UP and Bihar states. People are unable to sleep at night because of the potential of more earthquakes at any time.  The Nepal situation is worst.  The government is active in rescue operations. For now, the Indian government is providing them food, water, clothes, shelter and medicine.   Usually after 15 days the government will stop the operation and people will be without safe water.  
SWIM volunteers in India will be traveling from Delhi to Nepal.  They will be setting up distribution centers to distribute chlorine from 50 chlorine producing units that are due to arrive next week.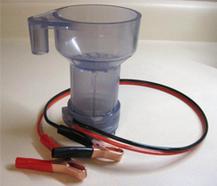 The SWIM CPU works with any car or motorcycle battery that delivers 10 amps. They can produce a virtually unlimited supply of 0.7% concentrated free chlorine solution using readily available salt and water. The SWIM chlorine solution is typically used to treat drinking water. It is safer than commercial bleach because it is made from only food grade salt; it does not have any other additives and, while strong, it is much easier to use than concentrated bleach.  The chlorine will be made and then distributed in family sized bottles.   Each CPU is capable of making one gallon of chlorine in 45 minutes.  One gallon of chlorine will then treat up to 1500 gallons of water, killing bacteria and water-borne pathogens and making the water safe to drink.
The CPUs are powered with the batteries available in the vehicles in the area.
A secondary use for the CPU is to provide disinfectant to clean surfaces and surgery tools in medical facilities.  Amputations are a common injury following earthquakes and building collapse.  This method provides a solution that can be used immediately without dilution.
To donate to this cause go to our website at www.swimforhim.org.