Fulfilling a Great Need in Liberia
Due to the high level of COVID impact in Liberia, there is a great need to help people keep their environment safe. The SWIM team in Liberia has begun conducting awareness workshops on how to make water safe for drinking.
"We were in Gbarnga, training pastors (involved in rural missions) and corrections officers from the Gbarnga Central Prison and some other leaders on how to use the chlorine producing units (CPU)," said Pastor Abraham Woto. "Just from this training, we are getting more invitations into the hinterland for missions and church planting work."
He added, "We are trusting God that we can get more CPUs to reach more people with the Gospel while providing them with clean drinking water. Many thanks to the Magkie Foundation and SWIM partners for making the CPUs available."
"We are expected to serve 50 new communities in five major counties across Liberia," explained Cornelius, another SWIM team member. "Thank you for your prayers and support."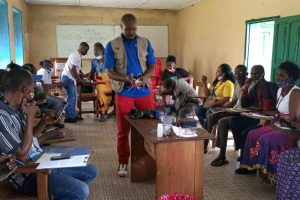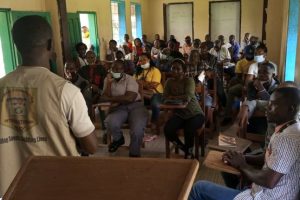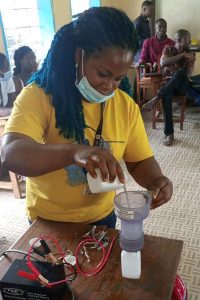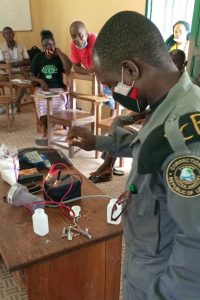 ---
Would you drink from this "puddle"?
Pastor Abraham stood in front of hole partially filled with water. "I was told about a challenge with a drinking water issue, so I came to see," he said.
Two leaders from a village in southeast Liberia showed Abraham what the people use as their drinking water source. Amazement showed on Abraham's face. "You can drink this water now?" he asked as he looked at this "puddle" of water.
"Yeah! You can drink it!" one responded.
"Are you serious? Show me!" Abraham requested.
The two men knelt down on the muddy ground, cupping dirty-looking water into their hands to drink it. Then Abraham had to try it, so he got down by the edge of the hole and tried the water. He got up with a grimace on his face.
"There is a serious need here!" Abraham said.
Thankfully, the village was given a way to purify the water. Abraham showed them how to produce chlorine with a CPU (chlorine producing unit). "Bless God for our Magkie Foundation for providing the CPU," he said.
Consider the question again: Would you drink from this "puddle"? The villagers in Liberia have no choice, but at least now a CPU will help to make the water safe to drink.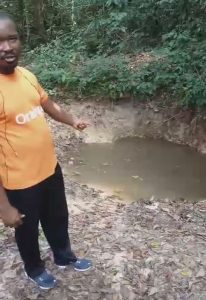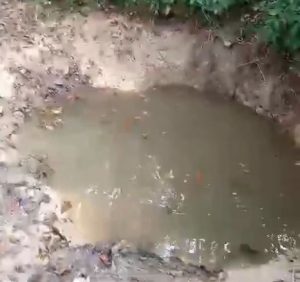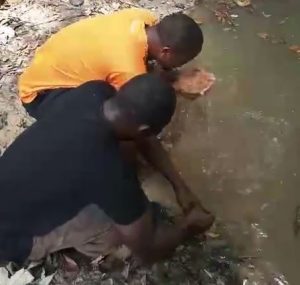 To see the video, click here: https://www.facebook.com/abraham.woto/videos/3884680621563681
---
No wells…only small streams to collect water from…
Recently, the Magkie Foundation International, Inc. purchased 12 chlorine producing units (CPUs) from SWIM. Two are reserved for medical clinics in Liberia, while the remaining ten are being distributed to people in remote villages in Liberia.
Pastor Abraham Alexander Woto received CPU training and has begun distribution of the equipment. Pastor Abraham is working with pastors to use the CPU and chlorine to reach residents for Christ. People come to church for the chlorine and receive the Gospel message at the same time.
Pastor Abraham rides to the end of the road and then has to walk an additional 4-6 hours to reach these people. Pastor Abraham said that after walking for 4-6 hours, even the clothes on his back feels heavy!
Because there are no wells, but only small streams as their source of water, the villagers in these remote areas are extremely happy and excited to receive the CPUs, so they too can have clean, safe water.