The Good News Partners with Chlorine
The Community Health Evangelism in Malawi reaches out to the lost souls. Through the distribution of chlorine, created with a CPU (chlorine producing unit), the Gospel of Jesus Christ is preached by walking door to door. The unreached are reached by sharing living guidelines, praying for the sick, and creating deep relationships with community members.
"When distributing chlorine to communities, we take it as an opportunity for us to preach the Good News of salvation and we teach how they can live in good health, so that we can be saved," explained SWIM team member, Trust Cadet.
"We distribute this chlorine when go out to preach to the community," said Pastor Chipingo Matola.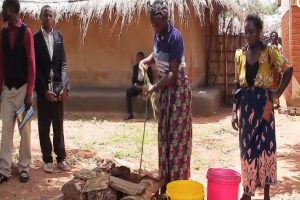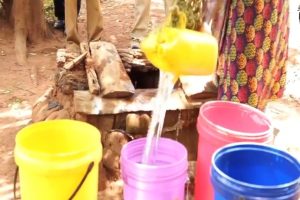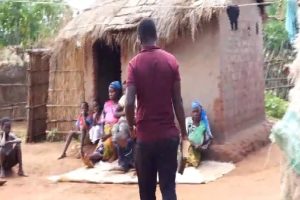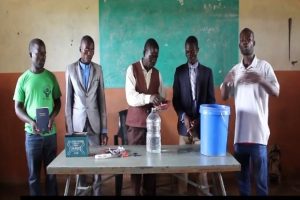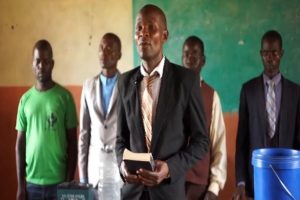 ---

Seeing God Work in Amazing Ways!
"Though 2021 was very challenging due to COVID-19, we have seen God work in amazing ways. We have impacted lives in communities, spiritually, physically, and emotionally. Despite the pandemic, many lives were reached and the Gospel of Jesus Christ was preached!" shared Moses Njobvu of the Abundant Life Center in Malawi.
He shared some wonderful highlights from this past year.
·  15 new SWIM sites were opened where CPUs, solar panels, batteries, and controllers were provided.
·  Over 39 communities were reached with the Gospel of Jesus Christ using CPUs as their evangelism tool.
·  156 Bibles were distributed to new converts and people who did not have or own a single Bible in Malawi, Zambia, and Mozambique.
·  100 pastors and their wives were trained by Pastor John and Julie Battern in which they distributed 80 Bibles and 8 CPUs with solar panels, batteries, and controllers.
·  They also left the ministry over 20 CPUs and money to purchase an extra 16 panels, batteries, and controllers which were distributed in Malawi, Zambia, and Mozambique.
·  According to Moses, "One major highlight for us with the team was seeing John and Julie kneel down and feed the children. This was super awesome and special for the children and the ministry."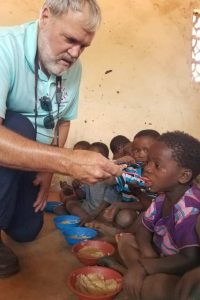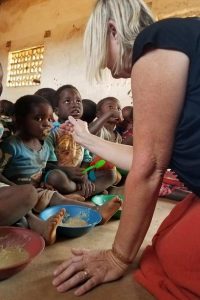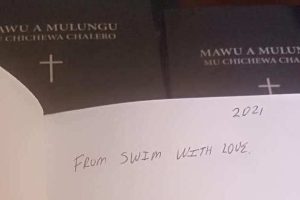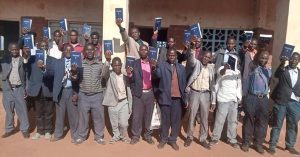 ---

Helping Those Affected by Water-Borne Diseases
"Please stand with us in prayer as we move into the Kumthila community to provide safe and clean water. The chiefs of this area asked us to help as they have been badly hit by water-borne diseases," said Moses, a SWIM team member in Malawi. "This well has been their main source of water since its existence."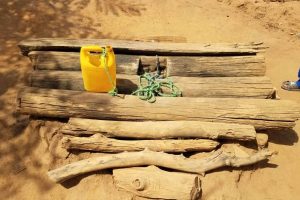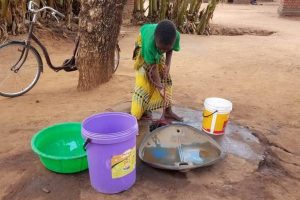 ---

Simple Ingredients: Salt, Water, and a Battery
One of the reasons why the chlorine producing units (CPUs) are so effective: they use common ingredients – salt, water, and a battery.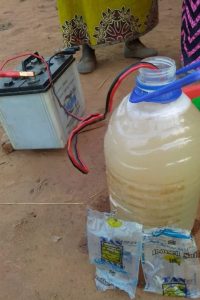 See the battery in the photo? This is what we mean when we say each community always has someone with a battery. It was provided by one of the community members. It is a small car battery.
This is north of Malawi where Pastor Chisale does community chlorine trainings.
---

What an Amazing Day!
This is an amazing day: lives have been transformed, people are drinking clean and safe water, and a widow's pig gave her nine piglets!
"This is what we mean when we say reaching the whole person, the whole community, physically, spiritually, and emotionally," explained SWIM team member Moses.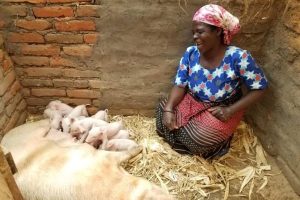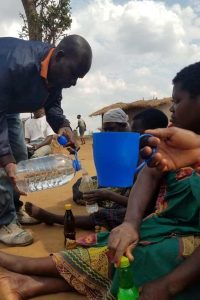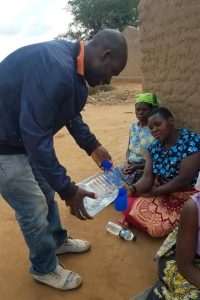 ---
What is SWIM? Here's a Great Explanation!
Per the Abundant Life Ministries in Malawi, here is a great explanation of what SWIM is and what it does.
"There is a saying that says, 'Word is Life,' but this saying is incomplete because only safe and clean water is life. Many communities drink unsafe water in most villages, leaving them sick with waterborne diseases. Some even lose their lives.
As a ministry, with support from Safe Water International Ministries (SWIM), we train communities how to make their own chlorine using a simple device called a CPU (chlorine producing unit) while we preach to them the Love of Christ who is the Living Water.
In addition to the CPU, communities are provided with a solar panel and battery which are the key components in making the chlorine with table salt added to the water."
When you support SWIM you are making an incredible impact that is helping to create positive change, hope, and better health.
           
---
Clean Water and Living Water
At the Abundant Life Ministries in Malawi, during their community health evangelism, chlorine was distributed to people so they could purify their water, enabling them to wash their hands with clean water. The best part was the Good News was shared, the sick were prayed for, and some families who needed it received one-on-one counseling. 
---
Making a Difference with Clean Water
As Moses from the Abundant Life Ministries noted, "Water is life, but only if it's clean and safe water." One village in Malawi has been experiencing positive results from having chlorine added to their water by using the chlorine producing unit (CPU). He reported that the water is being purified and people are using the clean water to wash their hands and bathe in, which is resulting in people feeling better!
---
Many Miles Walked = Huge Reduction of Waterborne Diseases
At the Abundant Life Ministries in Malawi, the Water Purification Coordinator's name is Trust. He makes chlorine at the center and then walks miles and miles into communities to distribute the chlorine and educate people on the usage, hygiene, community development, and program ownership.
Because of his willingness to do this, people are drinking safe and clean water, disinfecting their homes, and there has been a huge reduction of waterborne diseases!
"Thank you SWIM for the knowledge, equipment, and financial support!"
---

Girls Getting It Done!
A group of girls in Malawi got together and made chlorine to distribute around the villages so that people could disinfect their hands and water during this hard and difficult time of COVID-19.
---

Pumping By Hand at an Outdoor Pump
For most homes in the United States, getting a drink of water is as simple as turning on a faucet which is indoors. In Malawi, pumping by hand at an outdoor well is required.
Since safe, clean water is not readily available, SWIM teams have been distributing chlorine producing units (CPUs) to community members so they can purify the water, wash their hands, and disinfect their households.